Musical Director : Mike Canning
Rehearsal Pianist : Karen Scott
The Best of British Band : Allan on keyboard, Frazer on Guitar, Phil on Bass , Dean on Drums 
The Best of British : September 16th and 17th 2022
Who would have thought as we cleared away the tables, chairs, staging etc from the 2019 September Evenings that it would be three whole years before we would be doing this again!   
Along with just about everything else, as we all know only too well by now, live performances came to an abrupt end in March 2020. The struggles from then until now are well documented. 
For CODS Choral section, we had several plans which kept having to be changed. Eventually, in December 2021, we were able to put together a Christmas  concert, inviting Friends and members to come and join us for one of the two evenings. 
The 'Best of British' theme, initially planned for 2020 was carried forward two years, and seemed very appropriate for the Queens Platinum Jubilee year.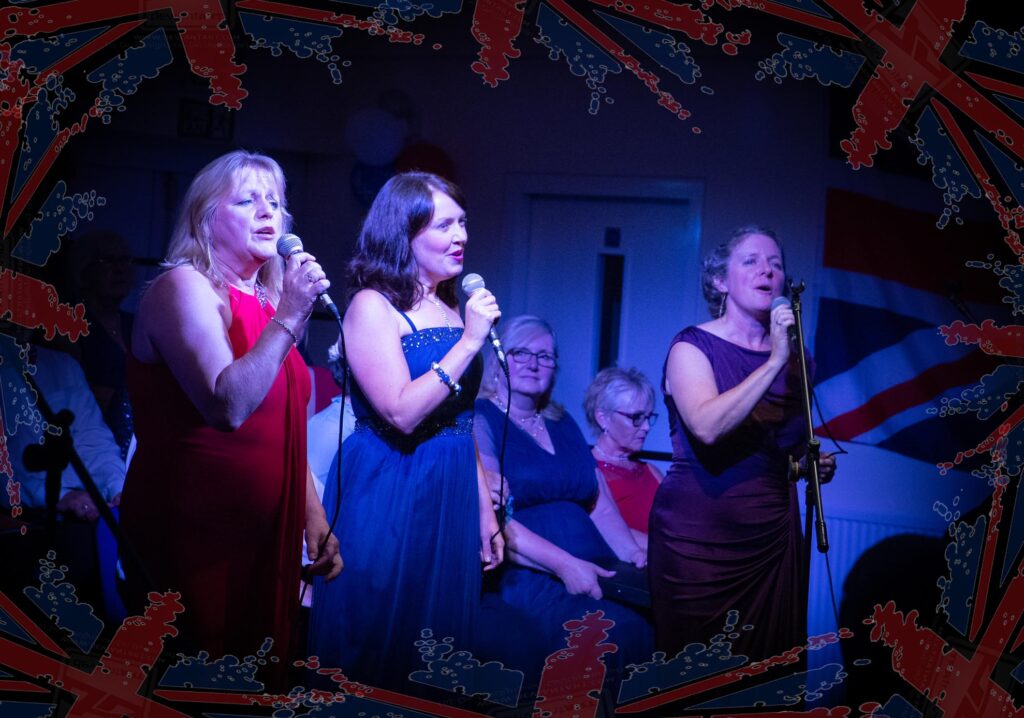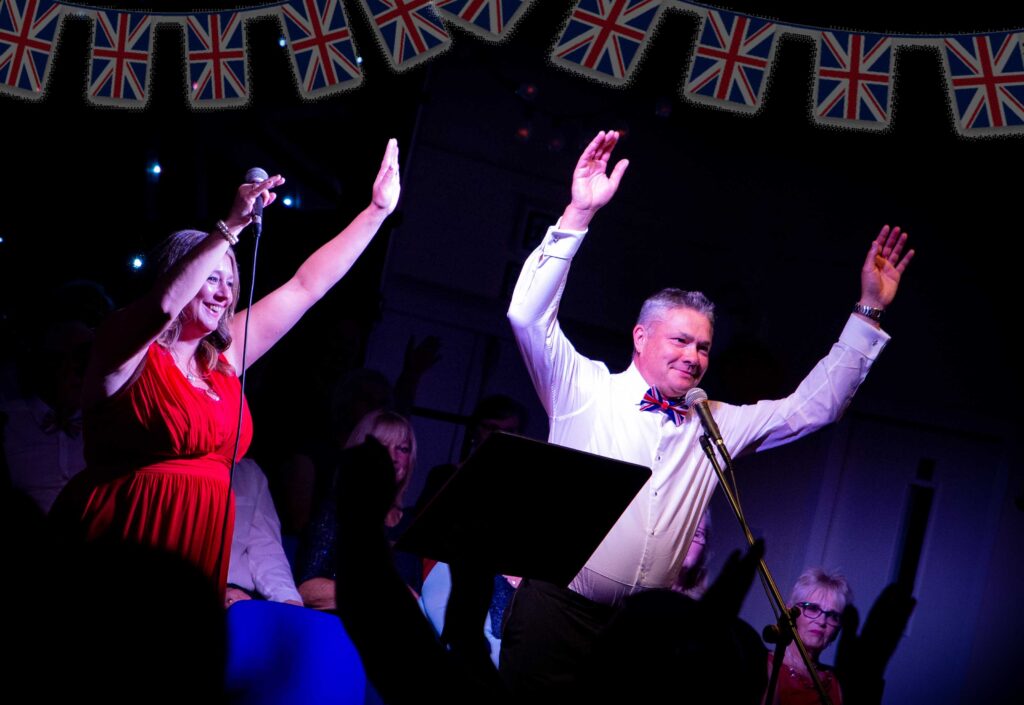 Rehearsals began at the end of April, though a few numbers had been attempted on Zoom and during the few rehearsals we could muster in 2021. 
As we all know the Covid period was a rough ride for just about everyone. Sadly we said goodbye to a number of members and former members. There were some really sad moments. 
However looking at the more pleasant things that happened, the Society enjoyed the pleasure of a good number of new members. It has been so nice to have a choir of almost 50 people to enjoy the weekly rehearsals, and then the two concert evenings. 
A large number of members came forward with individual items for the concerts and complimented the Best of British choral numbers. 
But fate still took a hand in our theme. As we all know our Queen of 70 years passed away just over a week prior to our evenings, and the Jubilee celebrations became a Jubilee memorial concert, in which we celebrated the life an amazing person, and sung with gusto to her son Charles, our new King.  
The concerts were two joyful evenings, made possible by the hard work of our MD Mike Canning, who as ever, took us note by note though all the numbers ….. and we think we sang most of them correctly! Thanks Mike for all your hard work. Thanks also to our rehearsal pianist Karen for supporting our efforts.
And once again, there was our Band. How would we manage without them? Thank you Allan on keyboard, Frazer on guitar , Phil on Bass and Dean on the drums.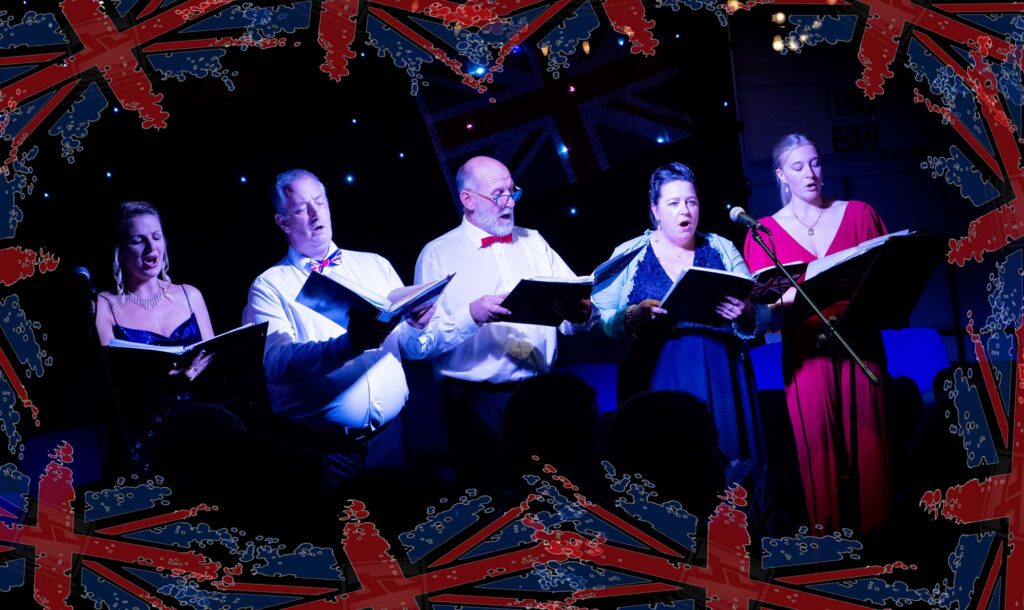 As ever the kitchen was an integral part of the evenings and huge thanks go to Anton, Ange and Nicki C, plus all their helpers. Simon and the guys behind the bar ensured no one went thirsty during the evenings. Also thanks to Yvonne for the marketing and table organisation  
The decor gave a real atmosphere to the evening, thank you Carol and team, and then Jo stepped in fairly last minute, with the lighting. 
Also thanks to our Sponsors for the Evenings.
Crediton Care Services, Greenslades Tours & Devondale Electrical Distributors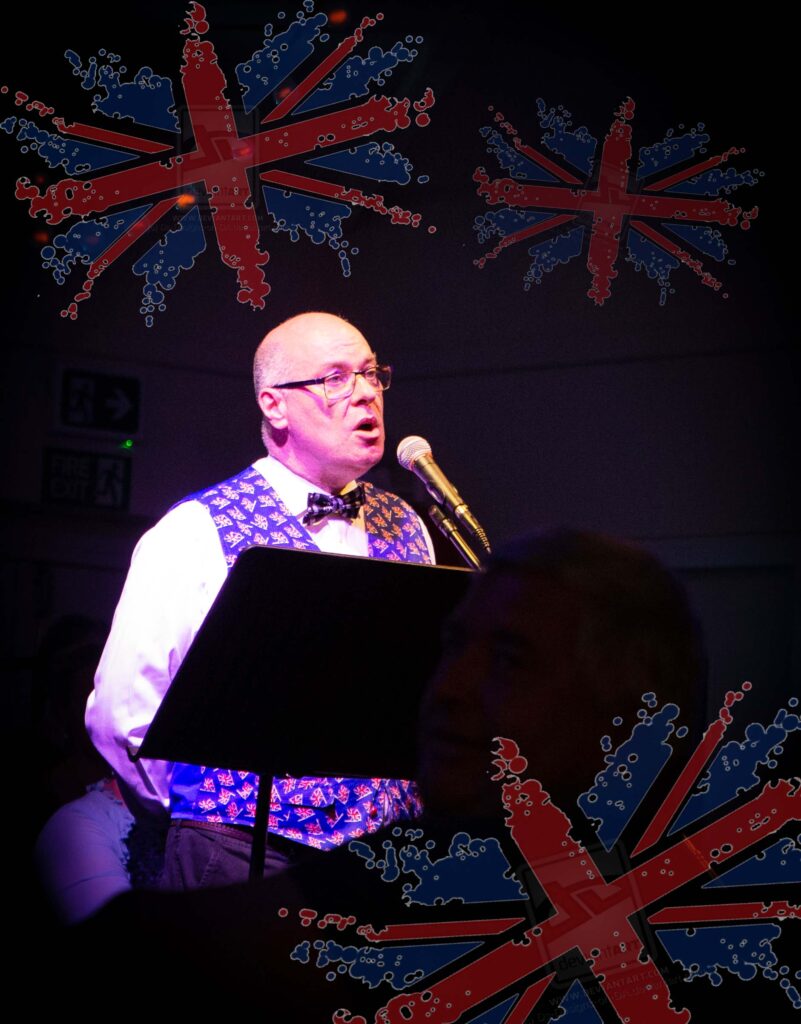 Following the evening we received the following comments from our NODA Rep Graham Liverton.
THE BEST OF BRITISH : 16th and 17th September 2022