Children of Eden ---- April 11th - 15th 2023
Music and Lyrics by Steven Schwartz
Directed by Heather Barlow
Musical Director : Allan Fouracre
Children of Eden is a 1991 musical with music and lyrics by Steven Schwartz and a book by John Caird. The musical is based on the Book of Genesis with Act I telling the story of Adam and Eve and Cain and Abel, while Act II tells the story of Noah and the Floods.
Though commercially the musical has had very little success, it is popular in community and regional theatres worldwide, due to its ability to accommodate a large or small cast, religious subject, and its universal themes of family and love. The show's publisher, Music Theatre International,  reports that Children of Eden is one of its top 20 most frequently licensed properties.
Children of Eden was originally written in 1986 as Family Tree for a production by Youth Sing Praise, a religious-oriented high school theatre camp performed at the National Shrine of the Lady of the Snows in Belleville, Illinois.
Stephen Schwartz adapted the script and music of Family Tree into a full-length musical, giving it the title it has today.
The original London cast production of Children of Eden was developed as a Royal Shakespeare Company (RSC) workshop. 
The production was directed by John Caird who the author of the book. 
Following the very well known and popular shows, 'Sister Act' and 'The Sound of Music', the 'Children of Eden' was a brave choice for the Society. Musically challenging for the cast, it was also challenging for the company to publicise and promote!
However CODS have a bit of a reputation for 'doing something different' from time to time.
Previous examples of this are the wonderful 'Hired Man' by Howard Goodall. The rarely produced, but very powerful 'Whichfinder' by Matin Roche and Ian Crabtree. And of course 'Brother Jaques' by Nick Stimson and Chris Williams, a show that was, in part, about our local Crediton history. These are just three of very different productions CODS have performed in recent years.
In addition the company is proud to produce many of its shows 'In the Round' which gives a whole new theatrical experience to our audiences.
'Children of Eden' was an 'In the Round' production, which of course brought the audiences very close to The Tree of Knowledge and very nearly on board the Ark!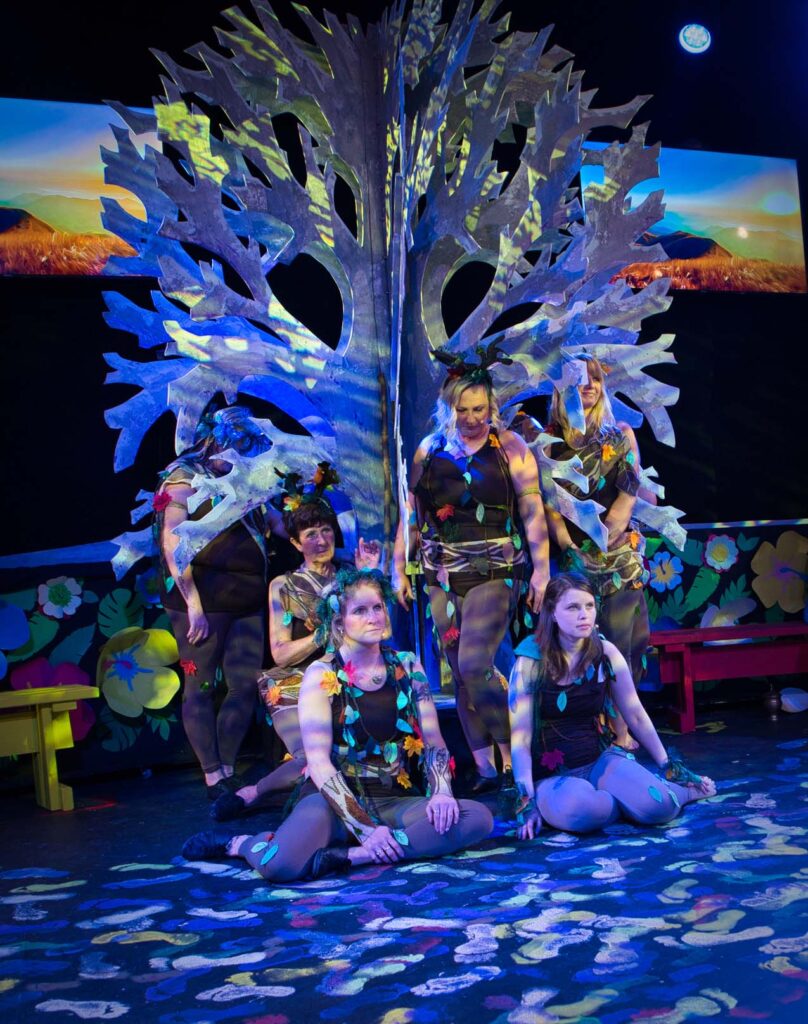 CODS PHOTO GALLERY "SMUGMUG"
Photographs from CHILDREN OF EDEN and previous CODS productions
are all available on this gallery.
These range from the very early productions to the present day. 
There are also some movie clips.
Just click the button and select the show. Enjoy!
Children of Eden NODA Review. 
We would like to thank our sponsors for supporting out production.
Your invaluable support helps CODS continue to grow, experiment and entertain. Thank you for your help.

Ashgrove Kitchens 
Gilbert Stephens LLP Solicitors 
Rose Removals 
Children of Eden : An Amateur production by arrangement with Music Theatre International (MTI Europe)