SPAMALOT :
 

Eric Idle : Book, Lyrics and Music.

   

John Du Prez : Music.

 
Director : Carolyn Stoyle
        

Choreographer : Georgia Steer

     


Musical Director : Allan Fouracre
The PLOT …………………..
CODS production of Spamalot was presented by arrangement with Theatrical Rights Worldwide. Their own description of the show probably is as good as any to indicate to any audience what exactly to expect. So to quote their own publicity ……
"Lovingly ripped off from the classic film comedy Monty Python and the Holy Grail, MONTY PYTHON'S SPAMALOT retells the legend of King Arthur and his Knights of the Round Table, and features a bevy of beautiful show girls, not to mention cows, killer rabbits, and French people. Did we mention the bevy of beautiful showgirls? The 2005 Broadway production won three Tony® Awards, including Best Musical, and was followed by two successful West End runs. The outrageous, uproarious, and gloriously entertaining story of King Arthur and the Lady of the Lake will delight audiences as they search for the Holy Grail and "always look on the bright side of life.""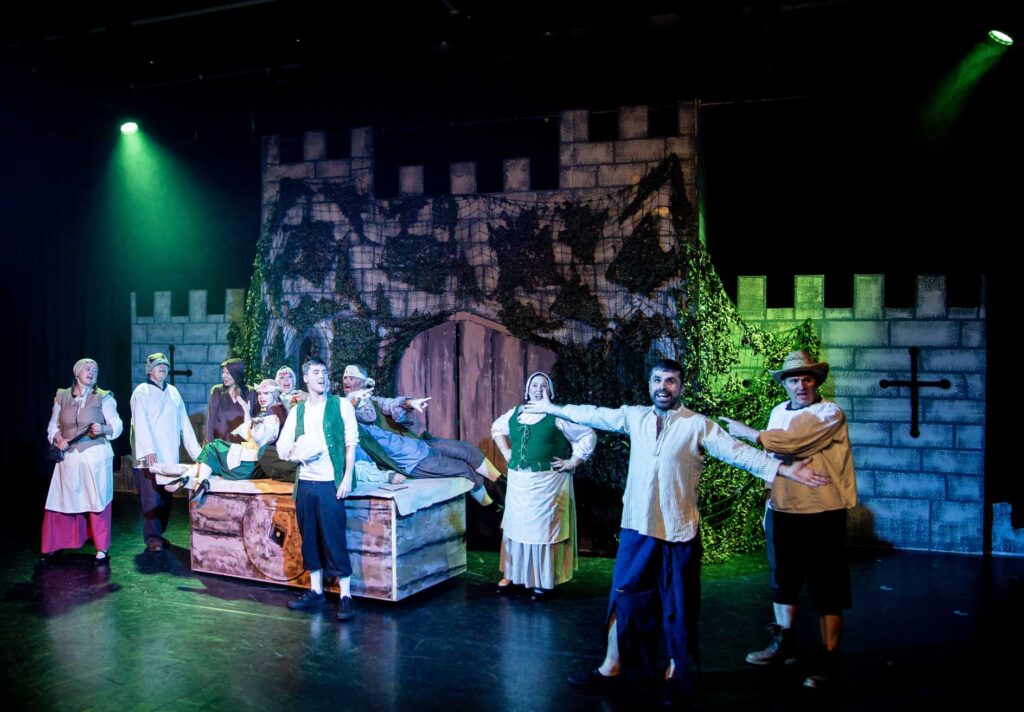 And indeed so it was with the CODS production. Entering into the full mayhem of this unique theatrical experience, the cast and crew gave it all that they had.
The programme actually contains a plea to the audiences not to try and understand the show …. but to be carried along by all the infectious silliness and chaos.  
Spamalot was partly chosen as a show for the men in the society. As the director mentioned in her programme notes, "the men were due a show with a lot more for them to do". 
So the challenge to them was set. Doubling, tripling, quadrupling up on parts? No problem! Tap dancing under the guidance of Georgia, our talented choreographer? Again no problem. Remembering the words, the songs, the movements …… and all in the right order (well almost!). Also no problem! Rumour has it that they were more than guilty of thoroughly enjoying themselves!  
Of course they were wonderfully and ably supported by the ladies, the multi talented Buffy as The Lady of the Lake, and her all her Laker Girls added to the fun. They also seemed to relish the madness. Well done ladies!  
CODS PHOTO GALLERY "SMUGMUG"
Photographs from 'SPAMALOT' and previous CODS productions
are all available on this gallery.
These range from the very early productions to the present day.
There are also some movie clips.
Just click the button and select the show. Enjoy!
The "Spamharmonic Orchestra"
MD and Keyboard ………. Allan Fouracre
Drums ………………………… John Salter
Guitar …………………………. Fraser Morgan
Bass Guitar ………………… Phil Williams
Reeds ………………………… Dave Lambert
Flute / Reeds ……………… Heather Sprowell 
"Every note an auditory delight!"
And a little post production Spamareview reporting from our friendly NODA rep……….